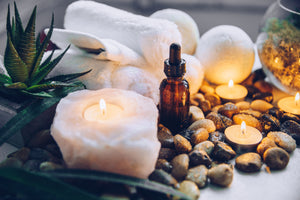 Raw* ~ Vegan ~ Organic ~ Non-GMO
A skincare company that cares about the skin your in. We want you to feel comfortable in your skin. Helping you to make a loving ritual for you self care; creating traditions that will not only keep your skin hydrated, smooth, and soothed as well as taking care of your mental health with your skincare treatment.
A brand you can trust.
Skinvig delivers a winning powerhouse of healing for just about all of your skincare needs. Developed to help deeply moisturize the skin and to shield it from the rashes, we also discovered that these blends are very useful in aiding the body in it's natural healing process when it comes to eczema, psoriasis, hives, rashes and more. It's a formula that is safe to use on toddlers on up and safe for all skin types.
All of the products contain organic oils, organic essential oil and natural Shea Butter. We are a vegan and/or organic, NON-GMO company. We make small batches of butters and salves to be sure of the potency of each jar, giving you the maximum benefits and with your skin's health in mind.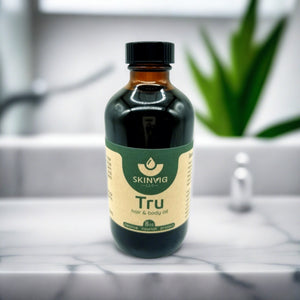 Where's this been all of my life!
Eczema has left me with hyper-pigmentation around my feet and ankles and completely has left my fingers on both hands with no pigmentation at all. To my surprise, after 2 weeks of using the Skinvig House Butter, the skin around my ankles and hands have begun to back to it's original bronze color a Thank you for making something that really helps healing my eczema issues and not just a cover up.
V. Storey-Williams
I absolutely love the scent!
 The butter is great. My son uses it and has no bad reactions to it. Right now with the weather, his skin stays hydrated longer which is great! The scent is lovely. I've been using it as well and no major changed yet but I like that it hydrates for long periods of time. I prefer the House Blend over the Souffle but that's a texture thing for me. As far as the moisture spray, I've been using it on m hair and my husband loves the scent! Gonna share with a co worker and put some in a small container. I don't want any dirty fingers in my jar...lol!
H. S. Chavez
Burn relief
I had several minor burns that were not healing. I also had major 3rd degree road burns from being hit and drug by a car a number of years ago. The road burns are lightening after using Skinvig House Blend butter and all of the minor burns healed in 24 hours. 
S. Eady
Great Bug Repellent!
Visiting family in Mexico, we were in an area that was overrun with mosquitoes and the town had been quarintined because of the outbreak a few weeks before we arrived. Knowing this, I was sure to take my Skinvig Souffle butter on my trip. I kept this butter blend on the entire visit and didn't suffer one mosquito bite! It was amazing because people had gotten sick from all the bites they received and me and my family were safe from bites the entire trip!
S. Guerrero