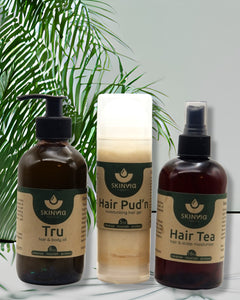 The Best!
I use Hair Pud'n in my daughters hair and it restores moisture and shine and smells great!
My hair is in love!
Oh my goodness! This Hair Pud'n Moisturizing Hair Gel is so amazing! Wait I'm screaming AMAZING!! I started oiling my scalp with this and it was love! I can't keep my hands off of this! Thank you! My hair is in love ❤️
Excellent for curly hair
Got this for my daughter who has curly hair that is often dry and a bit course. The product is awesome especially if I want to braid her hair. It is moisturizing and has a bit of hold that helps her curls on dry days. It smells so good you will want to eat it! So glad I found this product for my daughter and it is natural with healthy ingredients.
What I've been waiting for!
I have curly hair that is always dry and frizzy. I am always trying new products and am so happy to have found the Pud'n!! Just a small amount does wonders for my curls, they are no longer frizzy or dry. Thank you Marion!!
---